Writers read. Most of us are drowning in books, and could happily spend hours talking about what we're reading, and what we want to read.
To that end, I'm launching a new feature at Missy Stevens Writes: Missy Stevens Reads. Eventually you'll be able to find all of these posts neatly organized in one page on the blog. For now there's only one post (hint: it's this one, the one you're reading right now), so if you need help finding it, we have bigger problems than I'm able to solve here.
The type-A, completist part of my personality is struggling. I want to go back and write a post about every book I've ever read in order to make this blog feature feel legit. The lazier, more dominant part of my personality is laughing. Nobody has time for that.
We will start where we are today, and build from here. I mentioned I love talking books, so I hope you'll reach out to me with your thoughts, too. If you want to talk to me about any book, whether I mention it in this space or not, do it. You can reach me via email (slow response guaranteed), Facebook, Twitter, and Instagram (brand new account!) any time.
Let's get to it. My bedside table can get scary, piled with the to-read-next books and my Kindle, where more to-reads are housed. All of the books at my bedside are on my Up Next list, and that complicates things. Here is roughly half of the Up Next pile:
There is no rhyme or reason to how I choose what to read. Mostly, it's a feeling. As in, I feel like learning something, or I feel like losing myself in a story, or I feel like laughing. I regularly read more than one book at a time. Not simultaneously, exactly, as I'd need more hands and eyes and brains, but concurrently-ish. I switch back and forth, and it's inefficient as hell, and I need to stop doing that.
In an effort to instill more focus in my life, this week I chose to read one book in its entirety before picking up another. I started with Everything, Everything, a book I was lucky enough to get signed by the author, Nicola Yoon, at the Mom 2.0 Summit earlier this month.
Yoon is a pro at sitting down and doing the work. She told me that she wrote this book by getting up at 4 a.m., (I submit that is the middle of the night, not early morning) and working until her infant daughter woke at 6 a.m. Now that her daughter is a little older, Yoon sleeps in and works from 5-7 a.m. She is an inspiration to this morning-challenged writer.
Yoon's disciplined, butt-in-seat practice was useful at the conference, because she sat for hours, signing books for Mom 2.0 attendees. I was awed. She took the time to talk with every person in line, and I am thankful for her generous spirit. That kind of commitment embodies women supporting women.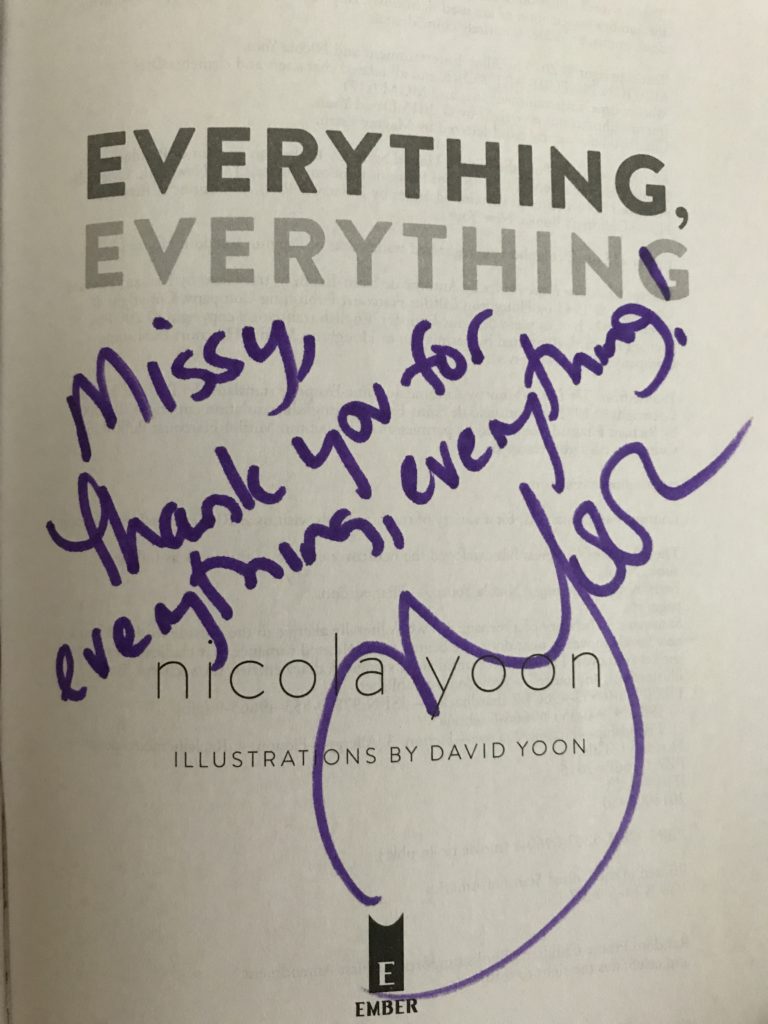 Everything, Everything is a young adult novel about teenager, Madeline Whittier, who is allergic to the outside world. Madeline hasn't been outside since she was an infant. Every aspect of her life is measured, charted, and 100% controlled, until a new family moves in next door. On that day, Madeline's world begins to expand, changing everything.
In Everything, Everything the narrative is punctuated by instant messaging conversations, drawings (illustrated by the author's husband, David Yoon), and diary entries. Madeline is the ideal teenager: kind, funny, and smart. I liked her instantly, and think you will, too.
The story speaks to every parent who ever looked at their child and thought, how do I keep you safe in this terrifying world? I suspect that includes, approximately, all parents. Setting our children free is a scary proposition, even when they – and we – are whole and healthy. Yoon explores what happens when the desire to control a child's welfare results in extreme choices.
Reading this book forced me to think about my own loves and losses. I've never met a parent who hasn't played the dangerous what if game, or questioned whether she's making the right decisions for her child. And though it was a long, long time ago, I (sort of) remember being a teenager. The natural state of teenager-hood is questioning the constraints put in place by parents and other authority figures.
In Everything, Everything Madeline risks her life and her relationships to challenge the boundaries of her world. I couldn't put down the book, and I'm eager to hear what other readers thought about it.
P.S. – Everything, Everything is now a movie, and is currently playing at a theater near you! I'm looking for a theater buddy, so if you're local (or are in the habit of traveling out of town to see movies), let me know.